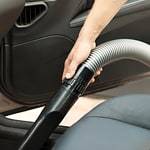 You love your furry friend but could definitely do without the annoying shedding that begins with one strand and ends up covering your entire back seat. Fortunately for you, Mainstreet Buick GMC of Kansas City in Kansas City, MO has some tips to keep this issue under control between detailing sessions.
When investing in a bristled-brush car vacuum cleaner isn't an option for you, try using the power of static electricity. One of the most common ways to go about this is to just put on a pair of rubber gloves and wipe your hands over your upholstery. For better results, prep the interior with a light mist of water. A basic rubber balloon will also create the necessary static electricity to free your car of loose fur.
Good ole duct tape will solve most of your problems, especially when it comes to pet hair. Use a piece of duct or packing tape to attract the fur, repeat the process until the surface is clear of hair, and be sure to replace the strips once they lose adhesive.