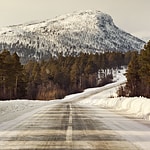 At Mainstreet Buick GMC of Kansas City in Kansas City, MO, we love teaching our community how to make winter survival kits. A winter survival kit is necessary, so you and your passengers are well cared for if you have a flat tire or even a collision.
Your winter survival kit should be in the backseat of your vehicle instead of in the trunk, so it is easily accessible in case of an emergency. Consider adding a shovel as well as a window scraper and a flashlight. A cell phone charger, as well as water and food, are also necessities.
You may want to have a first-aid kit, blankets, snow boots, or extra socks and gloves if you need to get out of the car. It is also nice to have items for younger passengers have things to stay busy as you wait for assistance.