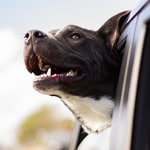 Traveling with an animal can be stressful, not only for the driver but for the pet as well. There are some things that you can do to make it easier on you both, however. Keep these things in mind before you leave Kansas City, MO with your dog or cat.
Before you leave, be sure that your pet has updated tags and a secure collar. Microchipping is also a good idea in case you get separated in an area that is unfamiliar to your animal. You should also bring along any important vet records that you may need along your way.
When loading your pet, be sure to bring along their favorite toy or bed. That will help them feel safe and secure on your journey. Just like you, your pet should buckle up when you hit the road. There are a variety of products on the market that can help keep your cat or dog secured and out of harm's way.